Sneha Balanaga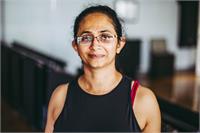 Sneha, who grew up in India, has been practicing yoga since childhood. She completed her Vinyasa and Traditional Yoga Teacher Training program in India in 2014. She has also completed an intensive Restorative Yoga Training from Yogaville, VA in 2016. She is comfortable with and enjoys teaching Gentle Yoga, Restorative Yoga, Vinyasa/Flow Yoga, Pranayama (breathwork) and Traditional Hatha Yoga focusing on alignment.
Sneha Balanaga instructs the following:
Open to all levels, this vinyasa practice features flowing movement. Modifications will be offered so that students can tailor the class to meet their specific needs.




Flow Yoga (heated room Sept-May)

This class incorporates postures into a "Vinyasa" (continuous flow) style at a comfortable pace in a warm (not hot) room. Poses are connected with each other and coordinated with the breath to increase strength, endurance, balance, and inner calm. The warmth in the room allows for a deepening of the posture and helps reduces the risk of pulling or straining muscles. Students modify the sequences to create a class that works for them.




Restorative Yoga is the Yoga of relaxation. Each pose is similar to a traditional Yoga pose, but is held for a long time- 2 mins to 20 mins. The main focus while being in these poses is to physically (and eventually mentally) let go and completely relax the body and mind. It is when we can "let go" of our holding patterns that our body finds a state of balance that will help it heal. While the props in Yin yoga helps you deepen your stretches, in RY they help you deepen your relaxation. For All levels.




All motion begins from our center. Learn how to effectively use your core muscles to create a strong, healthy and lean body. Exercises are primarily done lying supine/prone/side on a mat. Small props such as foam rollers and light weights are often used in this class. All equipment will be provided.




This All Levels Yoga class focuses on your personal alignment in yoga poses with an emphasis on breath and relaxation.