Brittany Borella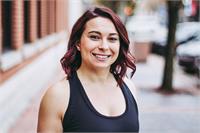 Brittany has always been a fitness fanatic; a dancer since age 5, she switched to a more traditional gym and group fitness routine when she went to college. After moving to Columbus upon graduation, she started attending yoga and barre classes at Zen Fitness and began focusing on more mind-body activities.
Brittany received her BarreAmped certification in January 2015 and is excited to start sharing her passion with others. She also enjoys hiking, cooking/nutrition, and spending time with friends.
Brittany Borella is currently not instructing any classes.