Kathy Trotta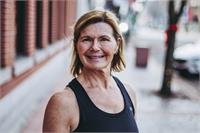 Kathy has been working out at Zen Fitness since February 2013, and Zen Fitness has truly changed her life. Taking classes in Pilates, BarreAmped, PiYo and Yoga, Kathy lost 20 lbs., gained muscle mass, and feels better than she has in years. In January, 2015, Kathy became a certified BarreAmped Foundations instructor and is enjoying teaching, as well as being a continuing student.
Kathy Trotta instructs the following:
All motion begins from our center. Learn how to effectively use your core muscles to create a strong, healthy and lean body. Exercises are primarily done lying supine/prone/side on a mat. Small props such as foam rollers and light weights are often used in this class. All equipment will be provided.




A circuit workout using the Reformer, Tower, Wunda chair and mat for a total body workout! This class will challenge you but allows you to squeeze in full body strengthening and lengthening in middle of your workday! Perfect for working professionals who don't want to go back to work all sweaty!