Shannon Clulow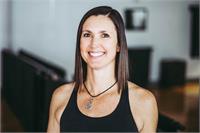 Shannon Clulow is a lifelong athlete who has been practicing yoga since 2000. Shannon holds a Bachelor's Degree in Art History, and has completed advanced coursework in Health & Wellness and Anatomy & Physiology. A former marathon runner, gymnast, and coach, she was initially attracted to the physical challenge of yoga, but quickly discovered the benefits of injury prevention, learning to breathe, focus, reduce stress, de-clutter, and embrace yoga philosophy both on ad off the mat. Shannon is an instructor certified at the 200 hour RYT level, and will complete training for the 500 hour RYT in April 2018.
Shannon became certified to teach Barre classes in 2013, and is proud to also be a class instructor for the Pow(h)er Method, leading classes in both Tap 'n Pow(h)er and Hold n' Pow(h)er.
Outside of the studio, she spends her time traveling, hiking, and kayaking with her family & dogs, and studying yoga daily in order to be able to offer informed, challenging, and thoughtful classes. Her wish is to help everyone who comes through the doors at Zen Fitness leave feeling empowered, confident, and open to possibility.
Shannon Clulow instructs the following:
A slightly shorter version of Barre. Barre classes provide lengthening and chiseling results fast using small isolated holds with tiny movements and tremendous mental connection. Expect an extreme challenge and prepare to leave feeling calmly energized with this hands on personal group training session.




This All Levels Yoga class focuses on your personal alignment in poses while linking them together with the breath in a flowing style of practice.




This All Levels Yoga class focuses on your personal alignment in yoga poses with an emphasis on breath and relaxation.




Restorative Yoga is the Yoga of relaxation. Each pose is similar to a traditional Yoga pose, but is held for a long time- 2 mins to 20 mins. The main focus while being in these poses is to physically (and eventually mentally) let go and completely relax the body and mind. It is when we can "let go" of our holding patterns that our body finds a state of balance that will help it heal. While the props in Yin yoga helps you deepen your stretches, in RY they help you deepen your relaxation. For All levels.




Open to all levels, this vinyasa practice features flowing movement. Modifications will be offered so that students can tailor the class to meet their specific needs.




Gentle movement and restful poses combine to give you an easy does it kind of class. This class is perfect for those participants need a gentle approach to yoga. You will move but you will also rest.




Flow Yoga
This class incorporates postures into a "Vinyasa" (continuous flow) style at a comfortable pace. Poses are connected with each other and coordinated with the breath to increase strength, endurance, balance, and inner calm. Vinyasa is a physically active class combining core, upper, and lower body strength, flexibility and cardio and is designed for students seeking their own personal challenge. The magic of this class is that everyone is practicing the same posture at different levels of ability, receiving the same benefits. Prior yoga experience is recommended.