Flow Yoga (Warm Sept-May)
This class is taught by: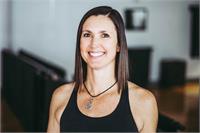 Shannon Clulow is a lifelong athlete who had been practicing yoga since
2000. Shannon holds a Bachelor's Degree in Art History
and has recently completed advanced
coursework in Health & Wellness and Anatomy &
Physiology. A former gymnast & coach, she was initially attracted to the
physicality of yoga, but quickly discovered the benefits of injury prevention,
learning to breathe, focus, reduce stress, de-clutter, and embrace the yoga
philosophy both on and off the mat. Shannon also finds that yoga is the perfect
complement to distance running, another favorite pastime.
Kate Connor, owner of Zen Fitness, introduced her to BarreAmped and Shannon
realized it was just the challenging workout she had been looking for. She became
certified to teach BarreAmped in September 2013. Shannon has also completed her 200 RYT training through Lezlie Ward and Yoga from the Heart.
Flow Yoga (heated room Sept-May)
This class incorporates postures into a "Vinyasa" (continuous flow) style at a comfortable pace in a warm (not hot) room. Poses are connected with each other and coordinated with the breath to increase strength, endurance, balance, and inner calm. The warmth in the room allows for a deepening of the posture and helps reduces the risk of pulling or straining muscles. Students modify the sequences to create a class that works for them.
Upcoming classes:
Sign Up

Tue

Oct 24 6:15 pm - 7:15 pm

with

Shannon

Clulow




Sign Up

Tue

Oct 31 6:15 pm - 7:15 pm

with

Shannon

Clulow




Sign Up

Tue

Nov 07 6:15 pm - 7:15 pm

with

Shannon

Clulow




Sign Up

Tue

Nov 14 6:15 pm - 7:15 pm

with

Shannon

Clulow




Sign Up

Tue

Nov 21 6:15 pm - 7:15 pm

with

Shannon

Clulow




Sign Up

Tue

Nov 28 6:15 pm - 7:15 pm

with

Shannon

Clulow




Sign Up

Tue

Dec 05 6:15 pm - 7:15 pm

with

Shannon

Clulow




Sign Up

Tue

Dec 12 6:15 pm - 7:15 pm

with

Shannon

Clulow




Sign Up

Tue

Dec 19 6:15 pm - 7:15 pm

with

Shannon

Clulow




Tue

Dec 26 6:15 pm - 7:15 pm

with

Shannon

Clulow