Yoga for a Better Back
This class is taught by: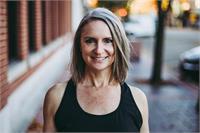 Sarah obtained her 200-hour hatha yoga training from All People Yoga Center, Indianapolis, in 2006. In 2010, she continued her training and completed her 500-hour certification through Heartland Yoga Therapy in Indianapolis. She is a certified teacher and member of Indiana Yoga Association. She is also a member of International Association of Yoga Therapists. Sarah enjoys teaching gentle to challenging classes incorporating her knowledge of hatha, vinyasa, gentle, and yoga therapy principles. She also incorporates breath work, proper alignment, and body awareness into her classes.
Sneha, who grew up in India, has been practicing yoga since childhood. She completed her Vinyasa and Traditional Yoga Teacher Training program in India in 2014. She has also completed an intensive Restorative Yoga Training from Yogaville, VA in 2016. She is comfortable with and enjoys teaching Gentle Yoga, Restorative Yoga, Vinyasa/Flow Yoga, Pranayama (breathwork) and Traditional Hatha Yoga focusing on alignment.

This class is designed to promote overall back health. A series of poses will be repeated in the same sequence for each class. Repetition allows greater connection to the poses and will help you to notice your progress from week to week.
Class consists of pelvic stabilization, back and shoulder strengthening and stretching. There are no standing poses in this class.
Appropriate for All levels. Pregnant clients should consult instructor prior to registering for this class.
Upcoming classes:
Sign Up

Wed

Oct 25 6:15 pm - 7:15 pm

with

Sarah

Hess




Sign Up

Wed

Nov 01 6:15 pm - 7:15 pm

with

Sarah

Hess




Sign Up

Wed

Nov 08 6:15 pm - 7:15 pm

with

Sarah

Hess




Sign Up

Wed

Nov 15 6:15 pm - 7:15 pm

with

Sarah

Hess




Sign Up

Wed

Nov 22 6:15 pm - 7:15 pm

with

Sarah

Hess




Sign Up

Wed

Nov 29 6:15 pm - 7:15 pm

with

Sneha

Balanaga




Sign Up

Wed

Dec 06 6:15 pm - 7:15 pm

with

Sneha

Balanaga




Sign Up

Wed

Dec 13 6:15 pm - 7:15 pm

with

Sneha

Balanaga




Sign Up

Wed

Dec 20 6:15 pm - 7:15 pm

with

Sneha

Balanaga




Wed

Dec 27 6:15 pm - 7:15 pm

with

Sneha

Balanaga




Wed

Jan 03 6:15 pm - 7:15 pm

with

Sneha

Balanaga




Wed

Jan 10 6:15 pm - 7:15 pm

with

Sneha

Balanaga




Wed

Jan 17 6:15 pm - 7:15 pm

with

Sneha

Balanaga




Wed

Jan 24 6:15 pm - 7:15 pm

with

Sneha

Balanaga




Wed

Jan 31 6:15 pm - 7:15 pm

with

Sneha

Balanaga




Wed

Feb 07 6:15 pm - 7:15 pm

with

Sneha

Balanaga




Wed

Feb 14 6:15 pm - 7:15 pm

with

Sneha

Balanaga




Wed

Feb 21 6:15 pm - 7:15 pm

with

Sneha

Balanaga