Restorative Yoga
This class is taught by: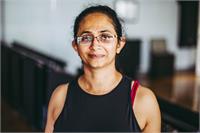 Sneha, who grew up in India, has been practicing yoga since childhood. She completed her Vinyasa and Traditional Yoga Teacher Training program in India in 2014. She has also completed an intensive Restorative Yoga Training from Yogaville, VA in 2016. She is comfortable with and enjoys teaching Gentle Yoga, Restorative Yoga, Vinyasa/Flow Yoga, Pranayama (breathwork) and Traditional Hatha Yoga focusing on alignment.
Restorative Yoga is the Yoga of relaxation. Each pose is similar to a traditional Yoga pose, but is held for a long time- 2 mins to 20 mins. The main focus while being in these poses is to physically (and eventually mentally) let go and completely relax the body and mind. It is when we can "let go" of our holding patterns that our body finds a state of balance that will help it heal. While the props in Yin yoga helps you deepen your stretches, in RY they help you deepen your relaxation. For All levels.
Upcoming classes:
Sign Up

Fri

Oct 27 12:15 pm - 1:15 pm

with

Sneha

Balanaga




Sign Up

Fri

Nov 03 12:15 pm - 1:15 pm

with

Sneha

Balanaga




Sign Up

Fri

Nov 10 12:15 pm - 1:15 pm

with

Sneha

Balanaga




Sign Up

Fri

Nov 17 12:15 pm - 1:15 pm

with

Sneha

Balanaga




Sign Up

Fri

Nov 24 12:15 pm - 1:15 pm

with

Sneha

Balanaga




Sign Up

Fri

Dec 01 12:15 pm - 1:15 pm

with

Sneha

Balanaga




Sign Up

Fri

Dec 08 12:15 pm - 1:15 pm

with

Sneha

Balanaga




Sign Up

Fri

Dec 15 12:15 pm - 1:15 pm

with

Sneha

Balanaga




Sign Up

Fri

Dec 22 12:15 pm - 1:15 pm

with

Sneha

Balanaga




Fri

Dec 29 12:15 pm - 1:15 pm

with

Sneha

Balanaga




Fri

Jan 05 12:15 pm - 1:15 pm

with

Sneha

Balanaga




Fri

Jan 12 12:15 pm - 1:15 pm

with

Sneha

Balanaga




Fri

Jan 19 12:15 pm - 1:15 pm

with

Sneha

Balanaga




Fri

Jan 26 12:15 pm - 1:15 pm

with

Sneha

Balanaga




Fri

Feb 02 12:15 pm - 1:15 pm

with

Sneha

Balanaga




Fri

Feb 09 12:15 pm - 1:15 pm

with

Sneha

Balanaga




Fri

Feb 16 12:15 pm - 1:15 pm

with

Sneha

Balanaga




Fri

Feb 23 12:15 pm - 1:15 pm

with

Sneha

Balanaga