Pilates Equipment Free Demo Night
This class is taught by: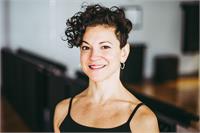 Sarah K. Schuetz believes in the power of movement to facilitate change. She is passionate about supporting people to feel empowered in their bodies, moving and
feeling their best. "Mens sana en corpore sano," (healthy mind in a healthy body) is her mantra.
Sarah is a certified Pilates instructor through the Kane School of Core Integration (NYC) and Lotus Pilates (Bloomington, IN).
She is also a Registered Practitioner of Ortho-Bionomy,® a modality which graced her life while she was living in Asheville, NC. This gentle bodywork aims to help humans experience more balance and ease in their lives from the inside-out by reminding the body's innate reflexes how to effectively and efficiently re-establish optimal being.
Back home in the Hoosier heartland after having lived in a number of the southeastern United States, Sarah is thrilled to be a part of the Zen Fitness family. She is readily growing her Ortho-Bionomy® practice, and she teaches Pilates regularly throughout the week.
Join us for a FREE demonstration and discussion surrounding the benefits of Pilates Equipment. Ask questions and see for yourself the beauty and versatility of a Pilates Equipment practice. Class is FREE but please register in advance.