Gentle/Restorative Yoga
This class is taught by: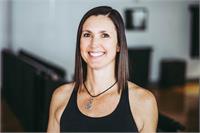 Shannon Clulow is a lifelong athlete who has been practicing yoga since 2000. Shannon holds a Bachelor's Degree in Art History, and has completed advanced coursework in Health & Wellness and Anatomy & Physiology. A former marathon runner, gymnast, and coach, she was initially attracted to the physical challenge of yoga, but quickly discovered the benefits of injury prevention, learning to breathe, focus, reduce stress, de-clutter, and embrace yoga philosophy both on ad off the mat. Shannon is an instructor certified at the 200 hour RYT level, and will complete training for the 500 hour RYT in April 2018.
Shannon became certified to teach Barre classes in 2013, and is proud to also be a class instructor for the Pow(h)er Method, leading classes in both Tap 'n Pow(h)er and Hold n' Pow(h)er.
Outside of the studio, she spends her time traveling, hiking, and kayaking with her family & dogs, and studying yoga daily in order to be able to offer informed, challenging, and thoughtful classes. Her wish is to help everyone who comes through the doors at Zen Fitness leave feeling empowered, confident, and open to possibility.
Gentle movement and restful poses combine to give you an easy does it kind of class. This class is perfect for those participants need a gentle approach to yoga. You will move but you will also rest.
Upcoming classes:
Sign Up

Tue

Dec 18 10:00 am - 11:00 am

with

Shannon

Clulow




Sign Up

Tue

Jan 01 10:00 am - 11:00 am

with

Shannon

Clulow




Sign Up

Tue

Jan 08 10:00 am - 11:00 am

with

Shannon

Clulow




Sign Up

Tue

Jan 15 10:00 am - 11:00 am

with

Shannon

Clulow




Sign Up

Tue

Jan 22 10:00 am - 11:00 am

with

Shannon

Clulow




Sign Up

Tue

Jan 29 10:00 am - 11:00 am

with

Shannon

Clulow




Sign Up

Tue

Feb 05 10:00 am - 11:00 am

with

Shannon

Clulow




Tue

Feb 12 10:00 am - 11:00 am

with

Shannon

Clulow




Tue

Feb 19 10:00 am - 11:00 am

with

Shannon

Clulow




Tue

Feb 26 10:00 am - 11:00 am

with

Shannon

Clulow




Tue

Mar 05 10:00 am - 11:00 am

with

Shannon

Clulow




Tue

Mar 12 10:00 am - 11:00 am

with

Shannon

Clulow




Tue

Mar 19 10:00 am - 11:00 am

with

Shannon

Clulow




Tue

Mar 26 10:00 am - 11:00 am

with

Shannon

Clulow




Tue

Apr 02 10:00 am - 11:00 am

with

Shannon

Clulow




Tue

Apr 09 10:00 am - 11:00 am

with

Shannon

Clulow