Veteran's Day Yoga (for veterans and partners only) FREE
This class is taught by: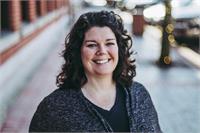 Amy began practicing yoga in 2003, and recently completed teacher training though Yoga From the Heart, with Lezlie Ward. She grew up in southern Indiana, and spent 13 years in the military. Amy met her husband while deployed to Somalia in 1993, and they currently reside in Columbus with their three children. Outside of the studio, she enjoys reading, historical documentaries and spending time with friends - preferably with coffee!
Thank you to those who serve or have served! This class is just for Veterans and their spouses/partners. Army Veteran and Registered Yoga Teacher Amy Allen will lead this All Levels Yoga class. No experience is necessary and this class is FREE.