Yin Yoga
This class is taught by: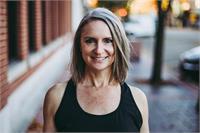 Sarah obtained her 200-hour hatha yoga training from All People Yoga Center, Indianapolis, in 2006. In 2010, she continued her training and completed her 500-hour certification through Heartland Yoga Therapy in Indianapolis. She is a certified teacher and member of Indiana Yoga Association. She is also a member of International Association of Yoga Therapists. Sarah enjoys teaching gentle to challenging classes incorporating her knowledge of hatha, vinyasa, gentle, and yoga therapy principles. She also incorporates breath work, proper alignment, and body awareness into her classes.
Yin Yoga targets the connective tissues, such as the ligaments and even the joints of the body that normally are not exercised very much in a more active style of asana practice. The postures will be held from 1-5 minutes. The use of props will be integrated into the hold of the postures so that the muscles can fully relax and the connective tissue can then be reached. The yin portion of the class will last approximately 40 minutes, we will then do a few Sun Salutations to address the yang (heating) portion of the class and finish with deep relaxation.
Upcoming classes: