Yoga Basics
This class is taught by: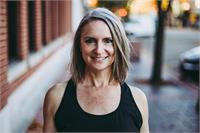 Sarah obtained her 200-hour hatha yoga training from All People Yoga Center, Indianapolis, in 2006. In 2010, she continued her training and completed her 500-hour certification through Heartland Yoga Therapy in Indianapolis. She is a certified teacher and member of Indiana Yoga Association. She is also a member of International Association of Yoga Therapists. Sarah enjoys teaching gentle to challenging classes incorporating her knowledge of hatha, vinyasa, gentle, and yoga therapy principles. She also incorporates breath work, proper alignment, and body awareness into her classes.
Relax, renew and re-energize! Gentle movement for all levels of yoga students. We keep this class uncomplicated so students of all levels can learn at a very relaxed pace. A great class for beginning students.
Upcoming classes:
Sign Up

Mon

Oct 23 6:15 pm - 7:15 pm

with

Sarah

Hess




Sign Up

Mon

Oct 30 6:15 pm - 7:15 pm

with

Sarah

Hess




Sign Up

Mon

Nov 06 6:15 pm - 7:15 pm

with

Sarah

Hess




Sign Up

Mon

Nov 13 6:15 pm - 7:15 pm

with

Sarah

Hess




Sign Up

Mon

Nov 20 6:15 pm - 7:15 pm

with

Sarah

Hess




Sign Up

Mon

Nov 27 6:15 pm - 7:15 pm

with

Sarah

Hess




Sign Up

Mon

Dec 04 6:15 pm - 7:15 pm

with

Sarah

Hess




Sign Up

Mon

Dec 11 6:15 pm - 7:15 pm

with

Sarah

Hess




Sign Up

Mon

Dec 18 6:15 pm - 7:15 pm

with

Sarah

Hess




Mon

Dec 25 6:15 pm - 7:15 pm

with

Sarah

Hess




Mon

Jan 01 6:15 pm - 7:15 pm

with

Sarah

Hess




Mon

Jan 08 6:15 pm - 7:15 pm

with

Sarah

Hess