Barre Bootcamp
This class is taught by: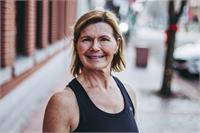 Kathy has been working out at Zen Fitness since February 2013, and Zen Fitness has truly changed her life. Taking classes in Pilates, BarreAmped, PiYo and Yoga, Kathy lost 20 lbs., gained muscle mass, and feels better than she has in years. In January, 2015, Kathy became a certified BarreAmped
method (foundations, advanced, cardio, Bootcamp and Fire), as well as barre n' pow(h)er through the Pow(h)er method. She is also rained in mat Pilates 1 and 2 through Balanced Body.
Kathy enjoys teaching as well as being a continuing student.
Upcoming classes:
Sign Up

Mon

Dec 17 4:15 pm - 5:15 pm

with

Kathy

Trotta




Sign Up

Mon

Dec 31 4:15 pm - 5:15 pm

with

Kathy

Trotta




Sign Up

Mon

Jan 07 4:15 pm - 5:15 pm

with

Kathy

Trotta




Sign Up

Mon

Jan 14 4:15 pm - 5:15 pm

with

Kathy

Trotta




Sign Up

Mon

Jan 21 4:15 pm - 5:15 pm

with

Kathy

Trotta




Sign Up

Mon

Jan 28 4:15 pm - 5:15 pm

with

Kathy

Trotta




Sign Up

Mon

Feb 04 4:15 pm - 5:15 pm

with

Kathy

Trotta




Sign Up

Mon

Feb 11 4:15 pm - 5:15 pm

with

Kathy

Trotta




Mon

Feb 18 4:15 pm - 5:15 pm

with

Kathy

Trotta




Mon

Feb 25 4:15 pm - 5:15 pm

with

Kathy

Trotta




Mon

Mar 04 4:15 pm - 5:15 pm

with

Kathy

Trotta




Mon

Mar 11 4:15 pm - 5:15 pm

with

Kathy

Trotta




Mon

Mar 18 4:15 pm - 5:15 pm

with

Kathy

Trotta




Mon

Mar 25 4:15 pm - 5:15 pm

with

Kathy

Trotta




Mon

Apr 01 4:15 pm - 5:15 pm

with

Kathy

Trotta




Mon

Apr 08 4:15 pm - 5:15 pm

with

Kathy

Trotta