Mat Pilates Sculpt
This class is taught by: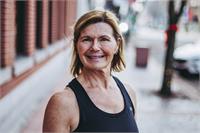 Kathy has been working out at Zen Fitness since February 2013, and Zen Fitness has truly changed her life. Taking classes in Pilates, BarreAmped, PiYo and Yoga, Kathy lost 20 lbs., gained muscle mass, and feels better than she has in years. In January, 2015, Kathy became a certified BarreAmped Foundations instructor and is enjoying teaching, as well as being a continuing student.
Combines traditional Pilates mat work with light weights for a lean, sculpting workout.
Upcoming classes:
Sign Up

Wed

Oct 25 12:15 pm - 1:00 pm

with

Sarah

Schuetz




Sign Up

Wed

Nov 01 12:15 pm - 1:00 pm

with

Sarah

Schuetz




Sign Up

Wed

Nov 08 12:15 pm - 1:00 pm

with

Sarah

Schuetz




Sign Up

Wed

Nov 15 12:15 pm - 1:00 pm

with

Sarah

Schuetz




Sign Up

Wed

Nov 22 12:15 pm - 1:00 pm

with

Sarah

Schuetz




Sign Up

Wed

Nov 29 12:15 pm - 1:00 pm

with

Sarah

Schuetz




Sign Up

Wed

Dec 06 12:15 pm - 1:00 pm

with

Kathy

Trotta




Sign Up

Wed

Dec 13 12:15 pm - 1:00 pm

with

Sarah

Schuetz




Sign Up

Wed

Dec 20 12:15 pm - 1:00 pm

with

Sarah

Schuetz




Wed

Dec 27 12:15 pm - 1:00 pm

with

Sarah

Schuetz




Wed

Jan 03 12:15 pm - 1:00 pm

with

Sarah

Schuetz




Wed

Jan 10 12:15 pm - 1:00 pm

with

Sarah

Schuetz




Wed

Jan 17 12:15 pm - 1:00 pm

with

Sarah

Schuetz




Wed

Jan 24 12:15 pm - 1:00 pm

with

Sarah

Schuetz




Wed

Jan 31 12:15 pm - 1:00 pm

with

Sarah

Schuetz




Wed

Feb 07 12:15 pm - 1:00 pm

with

Sarah

Schuetz




Wed

Feb 14 12:15 pm - 1:00 pm

with

Sarah

Schuetz




Wed

Feb 21 12:15 pm - 1:00 pm

with

Sarah

Schuetz