Cardi-Yo Fusion
This class is taught by: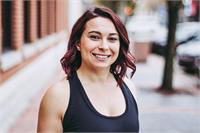 Brittany has always been a fitness fanatic; a dancer since age 5, she switched to a more traditional gym and group fitness routine when she went to college. After moving to Columbus upon graduation, she started attending yoga and barre classes at Zen Fitness and began focusing on more mind-body activities.
Brittany received her BarreAmped certification in January 2015 and is excited to start sharing her passion with others. She also enjoys hiking, cooking/nutrition, and spending time with friends.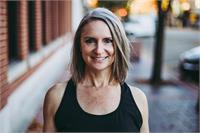 Sarah obtained her 200-hour hatha yoga training from All People Yoga Center, Indianapolis, in 2006. In 2010, she continued her training and completed her 500-hour certification through Heartland Yoga Therapy in Indianapolis. She is a certified teacher and member of Indiana Yoga Association. She is also a member of International Association of Yoga Therapists. Sarah enjoys teaching gentle to challenging classes incorporating her knowledge of hatha, vinyasa, gentle, and yoga therapy principles. She also incorporates breath work, proper alignment, and body awareness into her classes.
High-Intensity Interval Training with Yoga is a challenging and fun workout that combines yoga and intense training exercises. It is an effective way to boost your cardiovascular strength and build lean muscle mass while also reaping the benefits of the breathing and stretching you get from yoga. The class will offer periods of maximum intensity (HIIT cardio and/or light weights) and working rest (yoga) to boost metabolism, burn calories, and get healthy.
Upcoming classes:
Sign Up

Thu

Aug 24 5:15 pm - 6:00 pm

with

Brittany

Borella




Sign Up

Thu

Aug 31 5:15 pm - 6:00 pm

with

Sarah

Hess




Sign Up

Thu

Sep 07 5:15 pm - 6:00 pm

with

Brittany

Borella




Sign Up

Thu

Sep 14 5:15 pm - 6:00 pm

with

Brittany

Borella




Sign Up

Thu

Sep 21 5:15 pm - 6:00 pm

with

Brittany

Borella




Sign Up

Thu

Sep 28 5:15 pm - 6:00 pm

with

Brittany

Borella




Sign Up

Thu

Oct 05 5:15 pm - 6:00 pm

with

Brittany

Borella




Sign Up

Thu

Oct 12 5:15 pm - 6:00 pm

with

Brittany

Borella




Thu

Oct 19 5:15 pm - 6:00 pm

with

Brittany

Borella




Thu

Oct 26 5:15 pm - 6:00 pm

with

Brittany

Borella




Thu

Nov 02 5:15 pm - 6:00 pm

with

Brittany

Borella




Thu

Nov 09 5:15 pm - 6:00 pm

with

Brittany

Borella




Thu

Nov 16 5:15 pm - 6:00 pm

with

Brittany

Borella




Thu

Nov 23 5:15 pm - 6:00 pm

with

Brittany

Borella




Thu

Nov 30 5:15 pm - 6:00 pm

with

Brittany

Borella




Thu

Dec 07 5:15 pm - 6:00 pm

with

Brittany

Borella




Thu

Dec 14 5:15 pm - 6:00 pm

with

Brittany

Borella